By Robinho on August 23, 2010
SunPods based in San Jose, California recently unveiled the world's first EV charging station that depends on solar power. The factory built charging stion called SP-300 Plug n Go tips the scales at around 3,000 pounds and measures 10×20 feet. The EV charging station makes use of 12 solar panels for every module 2.4kW module.
The company started testing their product last year and officially launched the retail version of the charging station last month.
The SP-300 Plug n Go can charge two electric vehicles parked side by side and can also sell the excess energy it stores to utility companies.
Sunpods boasts that it is a pioneering product introduced to the market with potential consumers not having to source out different components to build a charging station.
With the growing interest for plug in hybrids and EVs, the company expects to provide consumers options when they are not home and without access to home-based chargers.
Sunpods is looking to market their EV charging stations to governments and retailers who want to focus on developing green transportation options in their communities.
The company is looking to produce about 5,000 units of the SP-300s per year. Each unit is expected to have sticker price of about $17,000.
Topics: Solar | No Comments »
By SolarCars on October 25, 2009
Cars that run on fossil fuels are still standard, but many would like to replace those diesel or gas engines with alternative fuels. One promising possibility is to develop solar powered cars. Although this is not yet a reality, prototypes have been built and proven to be functional and now many researchers are trying to find ways of using solar energy to power cars.
Solar powered cars would have many advantages over those that run on fossil fuels. These advantages are directly the result of the alternative source of energy. Cars that are solar powered basically run on energy collected from the sun's rays and that means that there is an unlimited supply of the source energy. This gives solar powered vehicles an edge over those that use up the limited supplies of oil reserves.
Another advantage of solar energy is that it is also free of future costs for the supply and requires very little maintenance and upkeep. This would make solar powered cars cheap to drive. Since solar power doesn't have any emissions, the cars would also be considered clean or "green" and not have a negative impact on the environment.
However, as of now there are no standard solar powered car models on the market. This may change in the near future, though, since many of the major manufacturers are also looking into this alternative source of energy and have ideas, such as adding solar panels to the car roof or to use solar energy as a power source to charge electric cars.
Topics: Mazda, Solar, Solar Cars | 1 Comment »
By SolarCars on April 25, 2009
This video is so wrong. Sir, people who are serious about solar powered cars know one thing: a driving range of 40 miles is NOT sufficient for anyone. We need REAL solar powered cars, and we need them soon if we REALLY want to make a difference.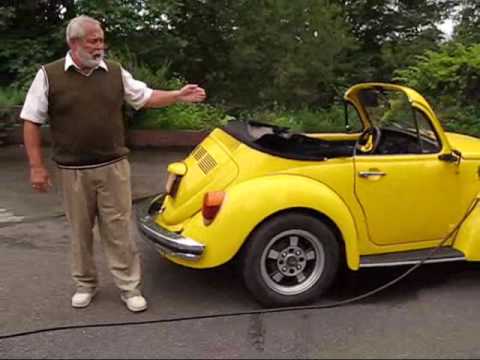 Topics: Solar, Solar Cars, Video | No Comments »
By SolarCars on March 27, 2009
Aerodynamics are hugely important on solar powered cars, because they can seriously change the energy effiency of a vehicle. Here's a great article on vehicle aerodynamics:
One need not be a hardcore Physics geek to understand the basic concepts of vehicle aerodynamics. In fact some of these basic concepts may even help you understand better how your car works and how you increase your fuel economy. Drag, lift, air density, drag coefficient – these are just some of the things you need to know if you want to get a better understanding of how vehicles are affected by aerodynamic forces.
Drag and lift are the the two aerodynamic forces that act on bodies traveling through the air – whether it be a truck, car, jet, or plane. For vehicles, drag is more important than lift, unless you like to drive fast in a race or exotic cars. Vehicles should avoid lift, which is why you have spoilers, wings, and air dams which all function to provide downward force and keep your car pressed down on the pavement.
Drag is the force that has the most impact on fuel economy and usage because this is the force that opposes the vehicle's forward movement. It requires a lot of power to overcome drag. Sometimes, it even requires more power than engine and powertrain friction, rolling resistance, and other power consumers. As mentioned, if you want to lessen drag (and thus decrease fuel usage and consumption), don't drive at speeds that are faster than necessary.
If you want to improve your car's aerodynamics, you should avoid using wider wheels because these increase drag. Also, roll your windows up when speeding down the highway. Most of the vehicles today are designed for aerodynamic efficiency when the windows are rolled up.
Topics: Aerodynamics | No Comments »
By SolarCars on December 30, 2008
The Universal Studios in Hollywood joins the move to be more earth friendly by planning to trade their 300 petrol powered vehicles for carts that run on solar power.
The carts will collect the energy from the sun's rays via photovoltaic panels attached to its roof. The solar power will charge the battery that will run the cart. The collected energy from the panels will add around 4 to 7 miles to the range of the cart.
When the battery is fully charged, the golf cart will be able to take people 40 to 60 miles on average.
The manufacturers of the carts explained that the carts can be made legal in most parts of the United States where the speed limit is less than 35 mph or lower.
The Universal Studios are considering the Solar Electric Hybrid carts from Cruise Car Inc. for use in their 415 acre lot. The manufacturer produces around 50 variants of the carts.
Environmentalists and media experts commended the Universal Studios for its commitment and prompt action to be more earth friendly.
No deals have been signed yet but soon top caliber actresses and actors, executives, and staff will be roaming around the big sets using the solar charged and plug in vehicle. This will phase out the gasoline powered golf carts that have been on the service for several years.
This is not the first time Universal Studios took a step to be lighter on the carbon foot print. They were recently rewarded the Environmental Media Associations Green Seal Award as one of the most earth friendly amusement parks in the US.
Topics: Celebrities, Solar Cars | No Comments »
By SolarCars on October 5, 2008
For those of you that dabble in kit cars, here is one do-it-yourself project that will help the environment and might just be a lot of fun while building. More of a novelty than an around-town vehicle, although it may be street legal in areas with lower speed limits, this solar-electric car looks like a square metal box on bicycle wheels. Called the SUNN, it is perfect for getting around trailer parks and campgrounds. And if you are worried about inclement weather and other safety hazards, that has been addressed with wiper blades, disc brakes, turn signals, mirrors, Kevlar belt tires, seatbelts and horn.
Interestingly, while they do seem a bit comical, these kit cars can be issued VINs (vehicle identification numbers) and when registered as Low Speed Vehicles or Neighborhood Electric Vehicles, may be insured by several vehicle insurance companies. Much like motorized golf carts in gated communities, the SUNN solar powered electric car will save on gas and the wear and tear of taking the car out to make short jaunts to visit the neighbors or trips to the pool.
Topics: DIY, Kit Car, Solar Cars | No Comments »
By SolarCars on September 18, 2008
People with money and celebrities have favorite causes to forward no different than other people. Bio fuels has caught the eye of several well known people who, too want to see alternative methods of heating and fueling cars than the traditional fossil fuels like gas, kerosene and diesel.
Willie Nelson, the famous country singer, co-founded a company in 2005 called Willie Nelson's Biodiesel. Under the name BioWillie, the vegetable oil fuel is sold through an exclusive license granted to Earth Biofuels, a biofuel company in Mississippi. Funding was secured for the reconstruction of a truck stop that would dispense both ethanol and BioWillie. Willie Nelson has long been a vocal opponent of wars feeling that the countries should be not be dependent on oil producing nations. He also wanted to help the average farmer so he started this eco-friendly bio fuel partnership.
Bill Gates, Microsoft founder, invested in Pacific Ethanol in 2006 to the tune of approximately eighty-four million US dollars. Although as recently as June 2008, he had divested of a large sum reducing his investment company's stake in the firm by seven percent, he still holds many shares. In addition, sources claim that he will further reduce his stake to about half of the original investment. On the surface, it seems to be a negative for bio fuels but considering forty-two million is half of the initial investment, there still must be some interest in the new energy.
Sheryl Crow, another well known singer, toured campuses in 2007 to talk about global warming. Called the "Stop Global Warming College Tour", the bus in which they traveled was fueled with biodiesel produced from vegetable oil.
Topics: Alternative Fuels, Bio-Fuels, Celebrities | No Comments »
« Previous Entries
Next Entries »